Bad credit loans in Montreal
Having a perfect credit history makes it easier to get emergency cash quickly. However, the reality is that many Montreal residents have less-than-perfect credit scores and find themselves in a panic state when they need access to extra money. Luckily, Get My Pay Today offers bad credit loans in Montreal to applicants who are incapable of getting personal loans from traditional institutions.
What are Bad Credit Loans in Montreal?
Bad credit loans in Montreal such as 
bad credit loans in Quebec
 are designed for individuals who need some 
fast cash to cover unexpected expenses
 but are unable to get approved by traditional lenders. You can receive anywhere between $300-$3000 with no credit check and with minimal documentation required. With Get My Pay Today, you can get instant loans online with no questions asked.
What is the impact of a bad credit?
Unfortunately, a poor credit score can have a negative impact and be used as proof that you are not creditworthy and that your chances of repaying the loan on time are low. Because you are seen as high-risk, financial institutions are unwilling to risk it. Even if approved, you'll have to deal with incredibly high-interest rates. This is one of the significant differences between traditional lenders and private lenders like Get My Pay Today.
How to improve my credit score?
A high credit score can make your life easier when making big life purchases like a house or a car. To improve your credit rating, always pay back your personal loans and credit card statements on time. You should also only borrow the minimum amount you need and always keep track of your spending.
With just a few little tweaks to your daily budget, you'll see a slow and steady increase in your credit score. Once your score is high enough, traditional lenders will identify you as a reliable and safe borrower.
Need a loan for any project ?
What are the requirements to apply for a bad credit loan in Montreal, QC?
Are you a Canadian over the age of 18 with a fixed address and a steady job? If so, your chances of being approved for a personal loan 
are almost guaranteed
. At Get My Pay Today, our focus is confirming your identity and employment status. If you can prove that you have sufficient funds to repay your entire loan by the due date, you will be able to 
get your emergency cash
 almost immediately.
We only ask for a few documents
To qualify for bad credit personal loans in Montreal is 
easy and requires minimal requirements
. When you submit your application, you will need to provide us with proof of the following:
Canadian citizen confirmation
Active chequing account for the last three months
Proof of residence in Canada
Proof of steady income
Confirmation that you receive your pay through direct deposit
Proof that you are not in bankruptcies situation
Your chances of being approved for short-term loans are incredibly high if you meet the criteria above. You will receive the funds directly into your Canadian bank account within 24 hours. If you apply using one of our 
IBV loans online
, the process will be even more simple and fast!
Your personal information is safe with us
We take your privacy seriously and ensure that all your data is 100% safe and secure. Using SSL-encrypted software, we do not sell your private information to anyone, including third parties. As a trusted online lender, we have a team of trained technical experts who handle all our security issues to give you peace of mind. If you have any concerns, feel free to reach out to us to learn more.
Need a loan for any project ?
What are the advantages of applying for online bad credit loans in Montreal?
For nearly two decades, we've been helping residents with bad credit scores get themselves out of financial ruin and back on the road to stability. Discover 
customized short-term loan options for your situation
. We issue 
online payday loans
, cash advances and installment loans designed to provide temporary relief for all your money woes.
We believe that your past decisions should not define your future. So forget about submitting a credit check and anxiously waiting for a response saying you've been refused for a short-term personal loan. Apply for 
no credit check loans in Canada
, and never worry about us communicating with credit bureaus about your application. You can be approved for a $3,000 instant loan with 
no documents and no credit check required
.
Complete the online loan application during business hours, and you can receive the funds before the end of the day. Our team works hard to get you the cash you need. The online application process takes 10 minutes, and you can get your application within 60 minutes after that. With no credit report necessary and minimal documents required, we're fast and efficient in getting you out of financial hardship.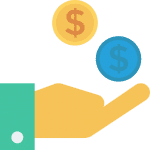 Receive the cash within 24 hours
Some financial crises cannot wait, and we know this very well. Unlike banks and other traditional lenders, we've sped up the application process specifically so that our reputable lenders can transfer the funds within 24 hours maximum. With no credit inquiry requested, if you can prove you're employed and receiving a monthly salary, your chances of being approved for bad credit loans in Montreal are incredibly high! All you have to do is to apply on a business day and wait for your money; easy!
No collateral online loans
Because we're dedicated to helping you improve your financial situation, we offer 
100% unsecured loans
. Unlike secured loans, these 
collateral-free
 personal loans are ideal for individuals who are facing financial ruin. So even if you were to default on your payment, you can rest assured that we would never repossess your assets.
Need a loan for any project ?
Find Financial serenity by applying for bad credit Loans in Montreal!
Get out of debt and work your way back to financial stability by applying for bad credit loans in Montreal today. If you have any questions about our personal loan solutions or about our repayment terms, feel free to 
contact us
, and a member of our team will be glad to assist you. If you're ready to 
improve the current state of your finances
, then apply for bad credit loans in Montreal today, and get the money within 24-hour maximum!
Need a loan for any project ?
Apply for Bad Credit Loans in Montreal with Get My Pay Today!
An adaptation to your needs
With amounts ranging from $300 to $3000, you can benefit from the highest credits on the loan market. Choose the amount you need when you apply and receive it in less than an hour.





A real desire to help you
At Get My Pay Today, the network of private lenders does not hesitate to help you when the banks no longer trust you. Your future is our priority; your past should not prevent you from moving forward. by applying for our loan without investigation, you avoid your credit history from impacting your future.