Get Bad Credit Loans in Québec
We get it; having bad credit can be stressful. Get My Pay Today can help if you have bad credit loans in Quebec and need to borrow money fast. Get My Pay Today is the alternative lender for all your needs if you've experienced bankruptcy, issues meeting credit card payment deadlines or have a hard time making ends meet.
Easy Online Application Process
Our application process is straightforward. Experience the full advantage of our rapid cash advance and loan services today!
What are bad credit loans in Quebec?
Get My Pay Today offers loan services with no credit check for anyone with bad credit loans in Quebec. If you have a credit score below 574, you won't be able to get a loan from traditional institutions. Getting a bad credit loan in Canada is way easier. Our bad credit loans must be paid back in installments every month, allowing you to meet your financial obligations hassle-free.
Why is Get My Pay Today the best choice for people with bad credit loans in Quebec?
Our online lenders are proud of being private lenders with an excellent service and a fast approval process. Our online form can be filled up from a mobile phone. Our bad credit lenders will then approve your bad credit loans application to give you access to cash as fast as possible, especially if you apply during business hours. Our customer service wants to help you to pay your bills on time.
Get My Pay Today sets itself apart by completely removing the credit history check from our model. Our focus lies in the future and providing the proper financial assistance to help you through the most challenging times. Your credit reports or bad credit rating will no matter in the decision process.
Online loans can be used at your discretion
Unlike traditional lenders, Get My Pay Today doesn't track the purpose of your loan usage. We offer complete flexibility and autonomy in regard to your use of the money. You can borrow up to $3000 with no credit-check. We have few requirements: Bank statement, Monthly income, proof of residence. 
Getting loans from financial institutions usually includes assets and having a great credit score. Our bad credit loans are collateral-free and thus support your journey towards financial freedom. You can apply with a poor credit score and a bad credit history.
Our loan application process is user-friendly and straightforward. Your application will be processed in less than 24 hours. Upon approval, the money will be transferred automatically to your bank account.
Competitive interest rates
We strive for our client's financial rehabilitation and confidence. This means that our interest rates are much lower than traditional lenders. We strive to ensure that you can complete your monthly payments consistently and timely, while disclosing our expectations and rules in complete transparency.
Our team will ensure that you are comfortable and aware of the requirements for our collaboration.
Need a loan for any project ?
Why choose Get My Pay Today for your bad credit loans in Quebec?
At Get My Pay Today, we are dedicated to your financial success.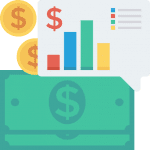 At Get My Pay Today, we value transparency and honesty. For this reason, we guarantee you won't be subject to hidden fees or additional payments. With over 17 years of experience in online lending, we have helped thousands of Canadian citizens improve their financial well-being.
A professional team at your service
Our lenders and professional staff are always available to guide you in important decisions and to help you explore the best solution for your needs. We're here to guide and support you as you face complex financial stresses and significant life transitions. With Get My Pay Today, we value your trust and are proud of our record 24-hour or less application and loan processing times!
Once your application is approved, the money will be sent directly to your bank account without further meetings or signatures required. You will get your emergency money within 24 hours maximum if you apply on business day. You'll have the breathing room to get your finances in order and pay your most pressing bills and accounts.
Need a loan for any project ?
Contact Get My Pay Today to apply for a bad credit loan in Quebec
Frequently asked questions about bad credit loans in Quebec
Need a loan for any project ?
Other provinces served in Canada | Bad Credit Loans
A Bad Credit Loan in Quebec
An adaptation to your needs
With amounts ranging from $300 to $3000, you can benefit from the highest credits on the loan market in Quebec. Choose the amount you need when you apply and receive it in less than an hour.





A real desire to help you
At get my pay today, the network of private lenders does not hesitate to help you when the banks no longer trust you. Your future is our priority; your past should not prevent you from moving forward. by applying for our loan without investigation, you avoid your credit history from impacting your future.

Contact Get My Pay Today for your bad credit loans in Quebec
Apply for an instant loans in Canada on Get My Pay Today's official website. We typically process every loan application request within a couple of minutes. Considering our high success rates on online applications, your money is just a few hours away. So yes, you can apply for a loan and get the funds even with a bad credit history.