Online Payday Loans in Kitchener 24/7
Are you facing unexpected expenses and cannot obtain a loan from your friends, family, or banks? Rest assured that this is common, and we've seen this happen many times. On top of that, having a bad credit score is often an obstacle in qualifying for a traditional bank loan, making your situation even worse. Luckily, we offer payday loans in Kitchener to help you tie over your last-minute expenses until your next payday.
Get an instant payday loan in Kitchener by the end of the day!
Get My Pay Today issues bad credit loans in less than 24 hours for Kitchener residents. Because we know that not all emergencies can wait until your next pay. If you submit your quick loan application during working business hours, you can receive the funds before the end of the day. With no credit check and no collateral requested, you can get approved for no credit check loans within 45 minutes without questions!
A 
payday loan in Ontario
 is an unsecured loan of up to $1,500 that you can borrow without providing a credit check. Each loan must be paid back in full during your next payday, making it 
an ideal solution for short-term emergencies
. Not only do we make it easy for applicants to apply, but if approved, you'll receive the money within 24 hours at the latest.
Need a loan for any project ?
Get payday loans in 3 easy steps in Kitchener
When you need fast cash, waiting isn't an option. Applying for a personal loan through a bank or another financial institution can take weeks. Luckily, we review your payday loan online application and transfer the quick funds within 24 hours, thanks to our simple 3-step application process. The payday loan application process is done entirely online, so you won't have to drive in your car or pick up the phone and call.
Using our online form, you can submit your application for online payday loans in Kitchener 24/7 from any location worldwide. All you require is a stable internet connection and 10 minutes of your time. Provide information about yourself and your employment, send us any requested documents, and submit your application for review.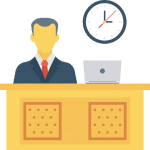 Receive our approval almost instantly
We will review your online payday loan application within 24 hours maximum. Apply early in the morning, and you can receive near-instant approval. Once a member of our team has reviewed and approved your application, you will receive a loan agreement that you must look over, sign and send back to us. It will contain all important information, including your loan terms and repayment deadline.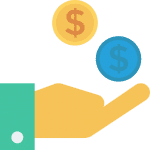 Get the funds deposited in your bank account within 24 hours
Once you have been approved, we will make a direct deposit into your bank account, and the money will be ready to be used. With 
no credit check or collateral required
, payday loans in Kitchener are the easiest way to get quick, instant cash. While you can quickly be approved for $1,500 in 
no credit check loans
, you should 
only borrow the minimal amount of money you need
 until your next payday. Borrowing more than necessary increases the risk that you default on your payment.
Need a loan for any project ?
Why Choose Get My Pay Today?
For over 17 years, Get My Pay Today has been the trusted online lender. We've been helping Canadian citizens cover their unexpected expenses to 
work their way back to financial stability
 thanks to our 
short term loans
. Our experienced team believes in open transparency. That's why we offer competitive rates to ensure clients can afford to borrow extra money in their times of need. We strive to make the online application as simple as possible to help people like you escape financial difficulties.
Only a few requirements are needed
Unlike traditional lenders, our reputable payday lenders won't ask you to provide many documents with your online payday loan application. We're interested in your ability to repay your loan by its due date. We only request information to properly identify you and ensure you have the necessary funds and employment income to meet your obligations.
We do not ask for a credit check
It's true that having a good credit score brings many added benefits and makes it easier to access online loans. However, we don't need this information to issue a 
quick cash advance
 or emergency loan. 
We will never ask you to provide us with your credit history
. Your instant payday loans in Kitchener application will likely be approved if you have enough funds to pay back your entire loan amount.
100% collateral-free loans
All our online payday loans are 
100% unsecured
, so you won't have to worry about putting up your assets to be approved for a short-term loan. If you cannot repay your online 
E-transfer payday loans
, we will not repossess your home, car or other valuables.
We do not ask why you borrow
We understand that you aren't always in the mood to share why you need online loans when facing financial troubles. However, payday loans in Kitchener were not designed for long-term difficulties. Instead, they are helpful solutions to resolve all your short-term emergencies, whatever they may be, even if you have a bad credit history.
Get My Pay Today offers up to $1,500 in payday loans. However, you should only request the minimum amount you need to pay off your financial emergency. How much you can borrow will depend on how much money you make and how much you have in your bank account.
No. We do not communicate with credit bureaus, and your online bad credit loan will not be reflected in your credit history. We also will not request a copy of your credit report to approve your loan application.
Need a loan for any project ?
An Online Payday Loan in Ontario
An adaptation to your needs
With amounts ranging from $300 to $3000, you can benefit from the highest credits on the loan market. Choose the amount you need when you apply and receive it in less than an hour.






A real desire to help you
At Get My Pay Today, the network of private lenders does not hesitate to help you when the banks no longer trust you. Your future is our priority; your past should not prevent you from moving forward. by applying for our loan without investigation, you avoid your credit history from impacting your future.